Britain's platform SaveMoneyCutCarbon is set to launch a first-of-its-kind 12-month carbon literacy programme called EcoWise. The programme, offered to staff by companies, encourages staff to become proactive in engaging in sustainable practices at home and in the workplace. Subsequently, users reap various rewards whilst providing quantifiable data for firms to report on their ESG strategies.

EcoWise is designed to increase loyalty and retention amongst staff who wish to see their environmental values align with their company. This comes as research shows that organisations that make strides to ensure their staff are educated on sustainability are becoming more attractive to employees when looking for work. This sentiment resonates most with young people, as a report from KPMG unveiled that one in three 18–24-year-olds stated they had turned down a job that didn't align with their ESG values. Amidst widespread layoffs across various sectors including the retail, media and tech industry, a potential exodus of environmentally conscious employees could be detrimental to businesses already struggling with rising costs across the board.

For employees to be fully engaged, it's imperative that they feel their voices are being heard, their values are being taken into consideration, and their work is making a positive difference. A landmark report from SaveMoneyCutCarbon found that 34% of Brits agreed that they would be more loyal to their workplace if they provided them more detailed information on how to be greener at work and home, yet 56% agreed that their employer provides them with zero information on how to be more sustainable. In a feat to change this, EcoWise provides employees with everything they need, in one easy-to-use programme that makes ESG goals attainable in a fun, engaging way for staff to employ practical changes that make a difference.
What is EcoWise?
SaveMoneyCutCarbon's carbon literacy programme is a 12-month course for employees consisting of carbon literacy assessments, access to education, rewards for employees who make the most of the programme, and quantifiable data on the progress of companies' ESG strategies. Different to other programmes, EcoWise doesn't just provide advice and information, but the actual tools and technologies to make these changes–from eco-friendly daily consumables to full home retrofit. They also offer customer support and financing to remove all barriers.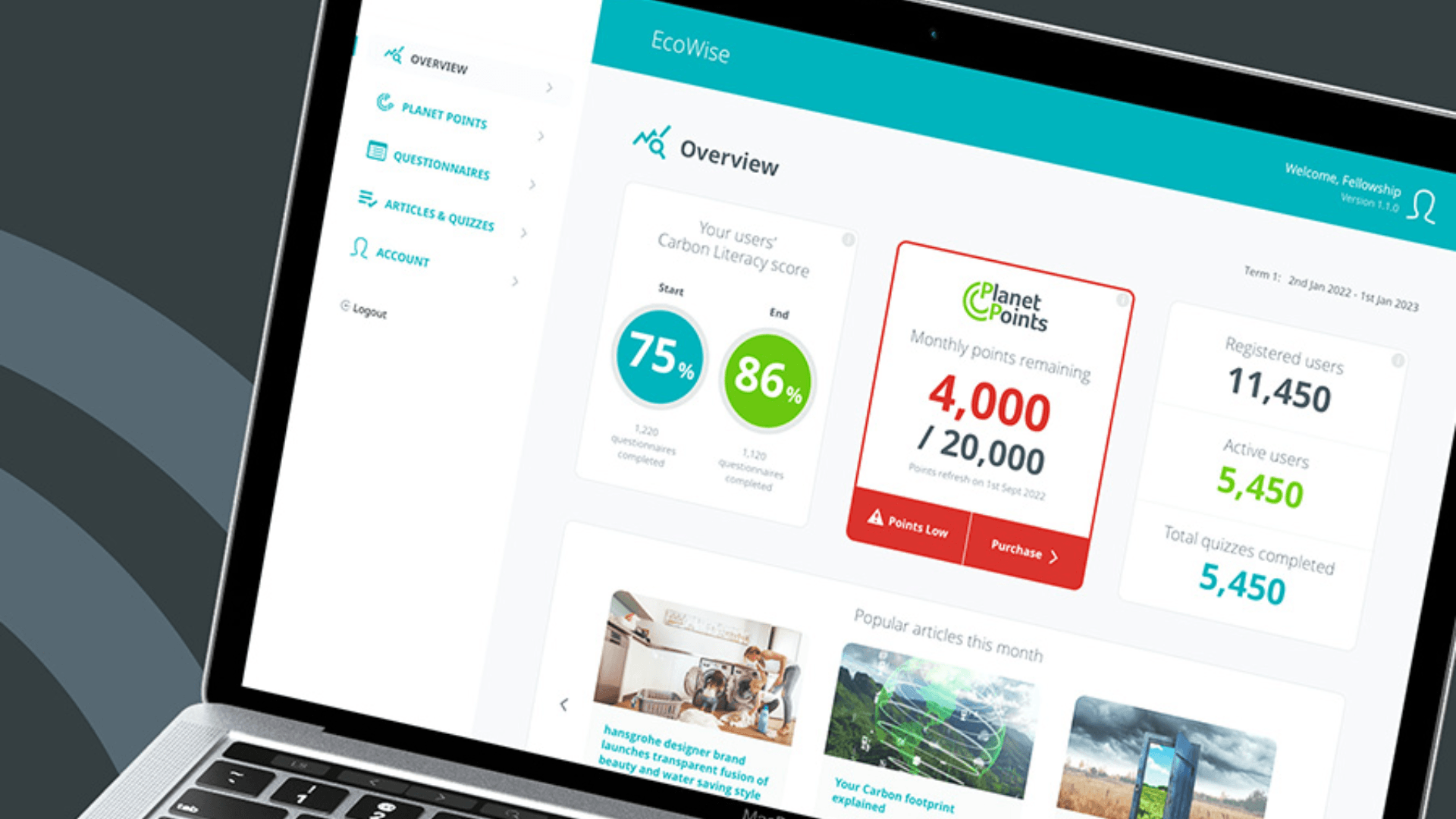 How EcoWise Works
Assesses the carbon literacy of your staff at the start & end to measure improvement over time.

Provides access to weekly easy-to-read articles, guides, and other content designed to encourage behaviour change through their "Sustainability as a Service" (SaaS) platform - combining advice, education, and tools plus end-to-end delivery of building decarbonization projects. A key part of every service they offer is access to Impact Statements, which measure the impact of the changes you, your customers, your supply chain, and your employees make. This data can then be used to enhance your ESG reporting.
Rewards employees for learning how to be more sustainable, cutting their energy bills and saving money. Each time an employee reads an article and completes a quiz they receive Planet Points which can be used to purchase thousands of eco-friendly items from the SaveMoneyCutCarbon online shop.
Data from your employees' Impact Statements can be aggregated & anonymised for your ESG reporting. A key part of every service offered is access to Impact Statements, which measure the impact of the changes you, your customers, your supply chain, and your employees make.
One Planet, One Partner
Regardless of the size of your organisation, building an ESG plan and making these changes can be a minefield. SaveMoneyCutCarbon serves to provide direct account management, delivering roadmap planning, financing, product supply, installation, engagement programmes, measurement tracking and more to support your ESG goals across all stakeholders.
Mark Sait, CEO and founder of SaveMoneyCutCarbon, comments:
"Organisations on a meaningful ESG pathway sidestep the pit that befalls those companies that talk the sustainability talk but don't walk the walk. It's known as "greenwashing", and is a tactic designed not only to position themselves favourably to customers but to attract and retain staff of all ages and levels. With genuine awareness of environmental issues on the rise, increasingly staff are seeing through the façade – and are voting with their feet.
"Tomorrow's workforce is set to propel it much further. Younger workers are already "climate quitting" for more environmentally friendly jobs, a KPMG survey of 6,000 UK workers showed last month. My own experience gives me a view of this changing paradigm, witnessing this movement both internally & externally.
"With an ever-increasing number of organisations, including our own Government, signing up to net zero targets many as far out as 2050 I would suggest ESG is a career path that is not going away any time soon and something that should be promoted and featured across our schools, colleges, and universities to find the eco champions of tomorrow – as organisations will need these skills and, more importantly, so will the planet."