The BVA BDRC has published the SME Finance Monitor report for the year. It found that 80% of SMEs has reported profitability, however only 36% of all surveyed SMEs reported having grown in the last 12 months. At the same time, more SMEs were expecting future growth, widening the gap between actual and planned growth. Nonetheless, not everything was good news in the report as 4 in 10 SMEs saw political uncertainty, the economic climate and/or legislation and red tape as a barrier with all three having increased as barriers since 2016. Innovation is no longer on the decline and international trade is stable, but those employing overseas staff were somewhat more concerned about changes to migration. This independent report analyses current trends in access to finance for SMEs and the state of the vital sector. The SME Finance Monitor surveys 4,500 businesses every quarter in the largest such survey in the UK, to analyse finance needs and growth trends. Luke Davis, CEO of IW Capital discussed the report and what it means for the SME economy:

"This report serves as a barometer for the SME economy, which plays such a vital role in the UK, making up 98% of private sector businesses and 60% of employment. The ambition and growth potential of these businesses is almost unrivalled, and with almost a third having grown recently support for this must be seen as a key driver for the UK economy."
---
Headline statistics
80% of SMEs reported profitability
36% of SMEs reported having grown in the last 12 months
35% of SMEs reported innovative activity in the last 12 months
40% have experienced sales growth
9% of SMEs are exporting
42% of SMEs use external finance
---
Further findings included that of the all SMEs interviewed, 11% of them have grown by over 20% in the last year, while reporting higher levels of innovation, international sales and desire to grow. 4% of SMEs are currently searching for finance , with 5.7million SMEs in the UK, this amounts to roughly 225,000 small businesses. Of these, around half are looking for growth finance leaving over 100,000 SMEs in the UK looking to access capital to facilitate growth.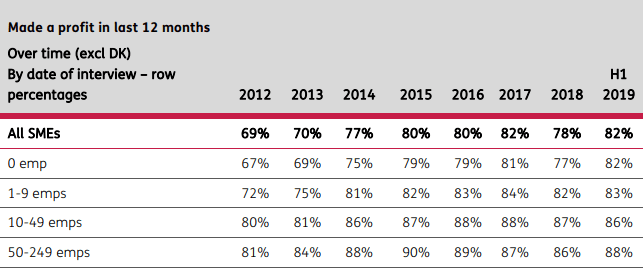 SMES that made a profit in last 12 months. Source: BVA BDRC
"The significant growth seen by some SMEs seems to be driven by innovation and international scalability as well as confidence to take advantage of opportunities, which points to what the future of UK business could be; innovative, global and ambitious," continued Luke Davis. And the expert concluded with:

"The UK is a world leader in technology and sector disruption and it is vitally important that entrepreneurs can gain access to growth finance to make their ideas a reality. Alternative finance such as the Enterprise Investment Scheme has supported these innovators for 25 years and will be a vital part of their growth in future."