Summary
William Henry Gates III, born October 28, 1955, is an American business magnate, investor, author, philanthropist, and humanitarian. He is best known as the pioneer of the microcomputer revolution of the 1970s and 1980s, and the principal founder of Microsoft Corporation. During his career at Microsoft, Gates held the positions of chairman, CEO, and chief software architect, while also being the largest individual shareholder until May 2014.
Biography
William Henry Gates III was born in Seattle as the son of William Henry Gates Junior (known as Senior today) and Mary Maxwell Gates. His father had English-German roots and his mother Scottish. His family was wealthy; his father was a known lawyer, her mother worked on the board of First Interstate Bank, the University of Washington Governing Board and the United Way of America charity, and her father, J. W. Maxwell, was the president of the National City Bank in Seattle. Bill has one older sister, Kristi (Kristianne), and one younger sister, Libby. Some sources say that Maxwell set up a million-dollar trust fund for Gates.
A biographer who interviewed (among others) Gates and his parents in 1993 found no confirmation of this and considered this story to be one of many rumors about the origin of Gates's property. Gates himself denied this in an interview in 1994 and indirectly in his own book The Road Ahead from 1995. At primary school, Gates was an outstanding student, especially in mathematics and other sciences. At the age of 13, he enrolled at Lakeside School, an exclusive private high school in Seattle. When he was in the 8th grade, Gates became interested in programming in BASIC on this computer and started devoting more time to mathematics classes.
At the age of 14, Gates and his friend Allen undertook a venture called Traf-O-Data. His goal was to create a traffic measurement device based on an Intel 8008 processor. Gates made $ 20,000 on it, but then the venture lost its initial dynamics. Bill Gates was active in the American Scouts Union, where he achieved the second-highest rank of Life Scout. According to the press, Bill Gates claimed that he received 1590 points out of 1600 possible on his SAT exams(the average result for the whole country oscillated around 1000 points). In the autumn of 1973 he enrolled in Harvard University with the intention of receiving a bachelor's degree to apply for admission to the faculty of law, but soon resigned. During his stay at Harvard, he met his future associate, Steven Ballmer, whom he appointed as Microsoft's CEO in 2000.
At the same time, he co-authored a scientific publication on algorithms with computer scientist Christos Papadimitriou. Microsoft Gates launched Microsoft with childhood friend Paul Allen in 1975 in Albuquerque, New Mexico; it went on to become the world's largest personal computer software company. Gates led the company as chairman and CEO until stepping down as CEO in January 2000, but he remained chairman and became a chief software architect. In June 2006, Gates announced that he would be transitioning to a part-time role at Microsoft and full-time work at the Bill & Melinda Gates Foundation, the private charitable foundation that he and his wife, Melinda Gates, established in 2000. He gradually transferred his duties to Ray Ozzie and Craig Mundie.
He stepped down as chairman of Microsoft in February 2014 and assumed a new post as technology adviser to support the newly appointed CEO Satya Nadella. Assets and investments Gates was the first on the Forbes list of 400 richest Americans from 1993 to 2007 and the first on the list of billionaires from 1995 to 2007, with 58 billion US dollars.
In 1999, Gates' assets surpassed $ 100 billion, and the media began calling him a "billionaire". Since 2000, the nominal value of his shares in Microsoft has decreased due to the general decline in the company's share prices, caused by the bursting of the Internet bubble and multi-billion donations that Gates allocated for charity. In an interview in May 2006, Gates said that he would prefer not to be the richest man in the world, claiming that he does not like the attention paid to him. Gates has several investments outside Microsoft, which earned him $ 966,667 in 2006.
In 1989, he founded the graphics company Corbis. In 2004 he became the director of Berkshire Hathaway, managed by his longtime friend Warren Buffett. Philanthropy In 2000, Gates and his wife founded the Bill & Melinda Gates Foundation. David Rockefeller's generosity and great philanthropy had a significant impact on this. Bill Gates and his father met him several times.
The foundation provides funding for scholarships for underrepresented minorities, the prevention of AIDS, and other common diseases in third-world countries, and for other philanthropic purposes. In 2000, the Gates Foundation supported the University of Cambridge with $ 210 million to use as part of the Gates Cambridge Scholarships project.
The foundation also donated around $ 7 billion for various purposes, including a billion for the United Negro College Fund. According to a Forbes article from 2004, Gates donated over $ 29 billion to charity in 2000–2004. His donations are usually cited as causing a substantial change in the attitude of rich people to philanthropy, which began to become the norm among them.
---
Vision
According to Gates, Warren Buffett encouraged him to devote himself to charity. Shortly thereafter, Buffett announced that he would contribute to the Gates Foundation identical sums to Gates, up to $ 1.5 billion a year. After this Buffet statement, on June 25, 2006, Gates gave him a copy of the Wealth of Adam Smith. On January 24, 2008, Gates said:
"Adam Smith, the father of capitalism and the author of 'The Wealth of Nations', believing strongly in the value of self-benefit for society, began his first book with the words: «However selfish man may become, there are evidently some principles in his nature, which interest him in the fortunes of others, and render their happiness necessary to him, though he derives nothing from it, except the pleasure of seeing it »."
Gates spoke of "creative" rather than "unlimited" or laissez-faire capitalism. "Creative capitalism binds the interests of others and our own in a way that allows both to develop. This hybrid engine of its own benefit and care for others can serve a much larger group of people than it was created only by its own benefit or self-care. Creative capitalism takes this interest in the fortunes of others and ties it to our interest in our own fortunes in ways that help advance both. This hybrid engine of self-interest and concern for others can serve a much wider circle of people than can be reached by self-interest or caring alone."
---
Recognition and Awards
In 2016, Barack Obama honored Bill and Melinda Gates with the Presidential Medal of Freedom for their philanthropic efforts. In 2017, François Hollande awarded Bill and Melinda Gates with France's highest national order, the Commander of the Legion of Honour, for their charity efforts. Entomologists named Bill Gates' flower fly, Eristalis gatesi, in his honor in 1997. In 2020, Bill Gates received the Grand Cordon of the Order of the Rising Sun for his contributions to Japan and the world in regards to worldwide technological transformation and advancement of global health. In 2021, Bill Gates was nominated at the 11th annual Streamy Awards for the crossover for his personal YouTube channel. In 2022, Bill Gates received the Hilal-e-Pakistan Second-highest civilian award for their social work in the country.
---
References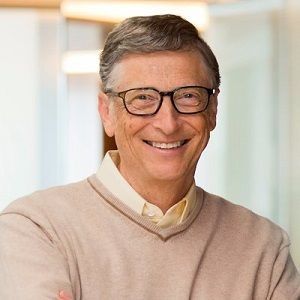 Residence
Seattle, Washington, United States
Occupation
Founder, charitable activities
Known for
Founder of Microsoft
Education
Harvard University (dropped out)