Summary
Vijay Goel is a prominent figure in the business community, holding several prestigious positions across various organisations. He has been creating cross-border corridors for business and trade for more than 23 years now.
He is the founder of the Indo-European Business Forum, established in 2007, with members that include top business leaders from India and the UK, members of the House of Lords, Members of Parliament, and Members of European Parliaments.
With his extensive involvement in various organisations, Vijay Goel has held prominent positions such as the Former Chairman of the London Chamber of Commerce Asian Business Association and the Former Chairman of ASSOCHAM UK, one of India's largest Chamber of Commerce. He has served as the Chief Coordinator of Pravasi Bharatiya Divas 2014, an event celebrating the Indian diaspora, and has been a member of the Gandhi Statue Committee in front of the British Parliament.
Previously, he has played a crucial role as the Local Representative of the Government of Andhra Pradesh for the Amravati Smart City Project, contributing to the development of sustainable urban environments.
Vijay Goel's contributions extend to the international business arena, as he is the Vice-Chairman of the Africa International Business Forum and a Board Member of the NRI Foundation. His experience and knowledge have also led him to serve as an Advisor to various business groups and as a former special advisor to the Commonwealth Business Council (CBC) for investments, an organisation that has top connections in more than 53 countries. He also serves as an Economic Consultant to Malta Enterprise, contributing to the economic development of Malta.
As the Senior Partner for the London office of Singhania & Co, a reputable law firm, he brings his extensive expertise in the legal field. Vijay Goel is also the Founder Circle member of the British Asian Trust, a charitable organisation that focuses on improving the lives of people in South Asia.
Mr. Goel is also an advisor to the Hinduja Group, which is a promoter of companies like Ashok Leyland, IndusInd Bank, and Hinduja Ventures, among others.
Beyond his professional achievements, Vijay Goel is involved in philanthropic endeavours as the Centenary Ambassador of SOAS (the School of Oriental and African Studies) and as an Ambassador of Barnardo's, the UK's largest and oldest national children's charity.
As a Trustee of the Ekal Vidyalaya Foundation of UK, Vijay Goel actively supports education initiatives for underprivileged communities. Furthermore, he has been recognised as a Charter Member and Former Board Member of TIE (The Indus Entrepreneur) UK.
With his extensive network and diverse expertise, Vijay Goel continues to make a significant impact in various sectors and contribute to the betterment of society. He has received numerous awards and recognition for his contributions, including the Asian Achievers Award for Professional of the Year and the National Law Day Award for his contributions in commercial law and in strengthening Indo-UK business relations.
Biography
Vijay Goel is an accomplished individual with a diverse range of roles and responsibilities. He serves as a Senior Partner for the London office of Singhania & Co, a renowned law firm specialising in corporate laws relevant to technology transfers, joint ventures, foreign collaborations, and licensing liquor licensing.
Vijay Goel is actively involved in various organisations to make a positive impact in society. As a Goodwill Ambassador for ActionAid, a global federation working to eradicate poverty and injustice, he contributes to their mission across 40 countries. He is also the Founder of the Indo European Business Forum, established in 2007, which promotes business opportunities between India and European Union countries.
Recognising the importance of sustainable development, Vijay Goel initiated "The Go Greens" project to raise awareness about energy conservation and environmental preservation. In the past, he has served as Chairman of ASSOCHAM UK, a not-for-profit organisation facilitating business connections with India. He is also the Trustee of Mukul Madhav Foundation UK, which supports healthcare, social welfare, and education in the country.
With a commitment to Africa's development, Vijay Goel holds the position of Vice Chairman at the Africa International Business Forum and serves as a Board Member for the Consortium for Street Children (CSC), working to improve the lives of street children globally. He also plays a role in the governance of the Gandhi Statue in front of the British Parliament and is a Centenary Ambassador for the School of Oriental and African Studies (SOAS) University of London.
Vijay Goel's dedication to philanthropy extends to his involvement as an Ambassador for Barnardo's, a children's charity, and as a Board Member for Afrinex Exchange, a pan-African exchange based in Mauritius.
---
Vision
Vijay Goel envisions a world where business, philanthropy, and sustainable development go hand in hand. His vision is to foster strong partnerships between different economies, bridging the gap and creating mutually beneficial opportunities. He believes in leveraging the power of collaboration and innovation to drive economic growth, social empowerment, and environmental sustainability.
At the core of Vijay Goel's vision is the belief in inclusive development and equal opportunities for all. He aims to create a future where marginalised communities are empowered, children have access to quality education and healthcare, and sustainable practices are embraced. Through his diverse roles and initiatives, Vijay Goel strives to build a more equitable and prosperous world, where individuals and organisations come together to address societal challenges and shape a better future for generations to come.
---
Recognition and Awards
Mr. Goel has received several awards and honors in recognition of his contributions to various fields. In 2013, he was conferred with the Pride of India Award by the NRI Institute for his efforts in promoting business between India and the UK. He also received the National Law Day Award from the President of India in 2009 for his contributions to commercial law and strengthening Indo-UK business relations. Additionally, Mr. Goel was recognized with the Iconic Leader Award by the All Ladies League and Women Economic Forum for creating social impact, and with the NRI Foundation Award for his outstanding work as an individual from the Indian diaspora. He was also honored with the Professional of the Year Award by the Asian Voice Asian Achievers Awards in 2010. Apart from these awards, Mr. Goel has been actively involved in various conferences and events, including speaking at conferences in Switzerland, Italy, and London. He also led a high-level delegation of investors from the UK to India for the Government of Madhya Pradesh's Global Investor Summit in 2007 and coordinated a high-level delegation of the Commonwealth Business Council, UK for the Government of Gujarat's Vibrant Gujarat Summit in 2009.
---
References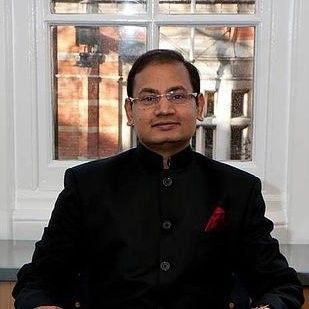 Occupation
Corporate lawyer, business advisor, foreign policy expert
Known for
IEBF (Founder), ASSOCHAM UK (Former Chairman)
Accolades
Iconic Leader Award (All Ladies league and Women Economic Forum), NRI Foundation Award (NRI Foundation Excellence Awards), Pride of India Award (NRI Institute), National Law Day Award (Her Excellency, Smt. Pratibha Devi Singh Patil, International Council of Jurists, the All India Bar Association, the All India Senior Advocates Association and the Indian Council of Jurists), Professional of the Year Award (Asian Voice Asian Achievers Award)
Education
PGDBA (Jaipuria School of Management, Lucknow)