United States
Country
Summary
Tesla is an American electric vehicle and clean energy company founded in 2003 by Elon Musk, JB Straubel, Martin Eberhard, Marc Tarpenning, and Ian Wright. The company designs, manufactures, and sells a range of electric cars, energy storage systems, and solar products. Tesla is known for its innovation and commitment to sustainability, with a mission to accelerate the transition to sustainable energy.
The company has gained widespread attention for its electric cars, which are renowned for their performance, range, and sleek design. In addition to its core business, Tesla is also involved in other ventures such as autonomous driving technology and space exploration. Despite facing numerous challenges and controversies, Tesla has become one of the most valuable and influential companies in the world, with a market capitalization of over $700 billion as of 2023.
---
History
Tesla was founded in 2003 by a group of engineers in Silicon Valley, including Elon Musk, JB Straubel, Martin Eberhard, Marc Tarpenning, and Ian Wright. The company's original goal was to revolutionize the automotive industry by creating a mass-market electric vehicle.
In 2004, Tesla unveiled its first prototype, the Tesla Roadster, which was based on a modified Lotus Elise chassis and featured a lithium-ion battery pack. The Roadster was a breakthrough in electric vehicle technology, offering high performance and long range, which helped to dispel the myth that electric cars were slow and limited in their capabilities.
In 2008, Tesla launched its second vehicle, the Model S sedan, which was well-received by consumers and helped to establish the company as a leader in the electric vehicle market. The Model S was the first electric car to offer a range of over 200 miles on a single charge, and it quickly gained a reputation for its performance, comfort, and sleek design.
To support the growing demand for its vehicles, Tesla began to expand its production facilities, including the construction of a new assembly plant in Fremont, California, which was previously owned by General Motors and Toyota.
In 2012, Tesla made headlines when it became the first American car company to go public in over 50 years, raising over $200 million in its initial public offering (IPO). The IPO helped to raise the company's profile and provided the capital needed to fund its expansion plans.
In 2015, the company launched its Powerwall home battery system, which enables homeowners to store energy generated by solar panels or other renewable sources for later use.
In 2015, Tesla launched its third vehicle, the Model X SUV, which featured falcon-wing doors and a range of advanced features, including autonomous driving capabilities. The Model X faced some initial production issues and delays, but it eventually became a popular and highly-regarded vehicle.
In 2017, Tesla launched the Model 3 sedan, which was designed to be a more affordable electric car for the mass market. The Model 3 proved to be a massive success, with hundreds of thousands of pre-orders and long waiting lists for delivery. The Model 3 helped to solidify Tesla's position as the leader in the electric vehicle market, and it played a major role in the company's ongoing growth and success.
During this period, Tesla also continued to innovate in the areas of renewable energy and energy storage. The company launched its Solar Roof product, which enables homeowners to generate electricity from solar panels integrated into their roofs. Tesla also continued to expand its Supercharger network, which provides fast charging for Tesla vehicles at locations around the world.
Tesla continued to grow and expand, with a market capitalization that surpassed $1 trillion in 2021. The company is widely regarded as a pioneer in electric vehicle technology and renewable energy, and it continues to be at the forefront of the transition to a more sustainable future.
---
Mission
The mission of Tesla is to accelerate the transition to sustainable energy. Tesla aims to achieve this by producing and selling electric vehicles, developing advanced energy storage solutions, and creating sustainable energy products that are accessible, affordable, and convenient for consumers around the world.
In addition, Tesla seeks to inspire and motivate other companies to adopt sustainable practices and reduce their environmental impact. Through its mission, Tesla hopes to help create a future that is powered by renewable energy and free from the harmful emissions and environmental damage associated with fossil fuels.
---
Vision
The vision of Tesla is to create a sustainable future where people can live in harmony with the environment.
Tesla envisions a world where energy is generated from renewable sources, transportation is powered by clean and efficient electric vehicles, and individuals and businesses have access to reliable, affordable, and sustainable energy solutions. Through its innovative technology and commitment to sustainability, Tesla aims to help create a future that is not only cleaner and healthier, but also more prosperous and equitable for all.
---
Key Team
Elon Musk (Founder, CEO)
Zachary J. Kirkhorn (Chief Financial Officer)
Andrew Baglino (SVP, Powertrain and Energy Engineering)
Tom Zhu (Senior Vice President, Automotive)
---
Recognition and Awards
Tesla has received numerous awards and accolades for its innovative products and impact on the automotive and energy industries. It has been named one of Fortune's Most Admired Companies multiple times. Tesla's Model S electric car received multiple awards for its design, performance, and innovation, including being named Motor Trend's Car of the Year. Its Model 3 electric car received several awards for its affordability, range, and impact on the electric vehicle market. The company has alsoreceived awards for its efforts in sustainability and renewable energy, including recognition for its investment in solar power and its efforts to reduce emissions.
---
Products and Services
Automotive products: As of October 2022, Tesla offers four car models: Model S, Model 3, Model X and Model Y. Tesla's first vehicle, the first-generation Tesla Roadster, is no longer sold. Tesla has plans for a second-generation Roadster, a semi-truck, and a pickup called the Cybertruck.
The only discontinued Tesla vehicle model is the original Tesla Roadster. The Roadster was a two-seater sports car, evolved from the Lotus Elise chassis, that was produced from 2008 to 2012.
Energy Products: Tesla subsidiary, Tesla Energy, develops, builds, sells and installs solar energy generation systems and battery energy storage products (as well as related products and services) to residential, commercial and industrial customers.
The subsidiary was created by the merger of Tesla's existing battery energy storage products division with SolarCity, a solar energy company that Tesla acquired in 2016.
Tesla Energy's generation products include solar panels (built by other companies for Tesla), the Tesla Solar Roof (a solar shingle system) and the Tesla Solar Inverter. Other products include the Powerwall (a home energy storage device) and the Powerpack and Megapack, which are large-scale energy storage systems. Tesla Energy also develops software to allow customers to monitor and control their systems.
Other services: Tesla receives service revenue from its vehicle customers after their initial purchase; these revenues reached $1.47 billion in 2022 Q2. As of August 2020, those services include vehicle servicing, charging, insurance, software upgrades, and improved connectivity. In July 2021, Tesla made Full Self-Driving available as a monthly subscription. Future services which have been discussed include paying for a Wi-Fi hotspot in the car and the Tesla robotaxi network.
---
References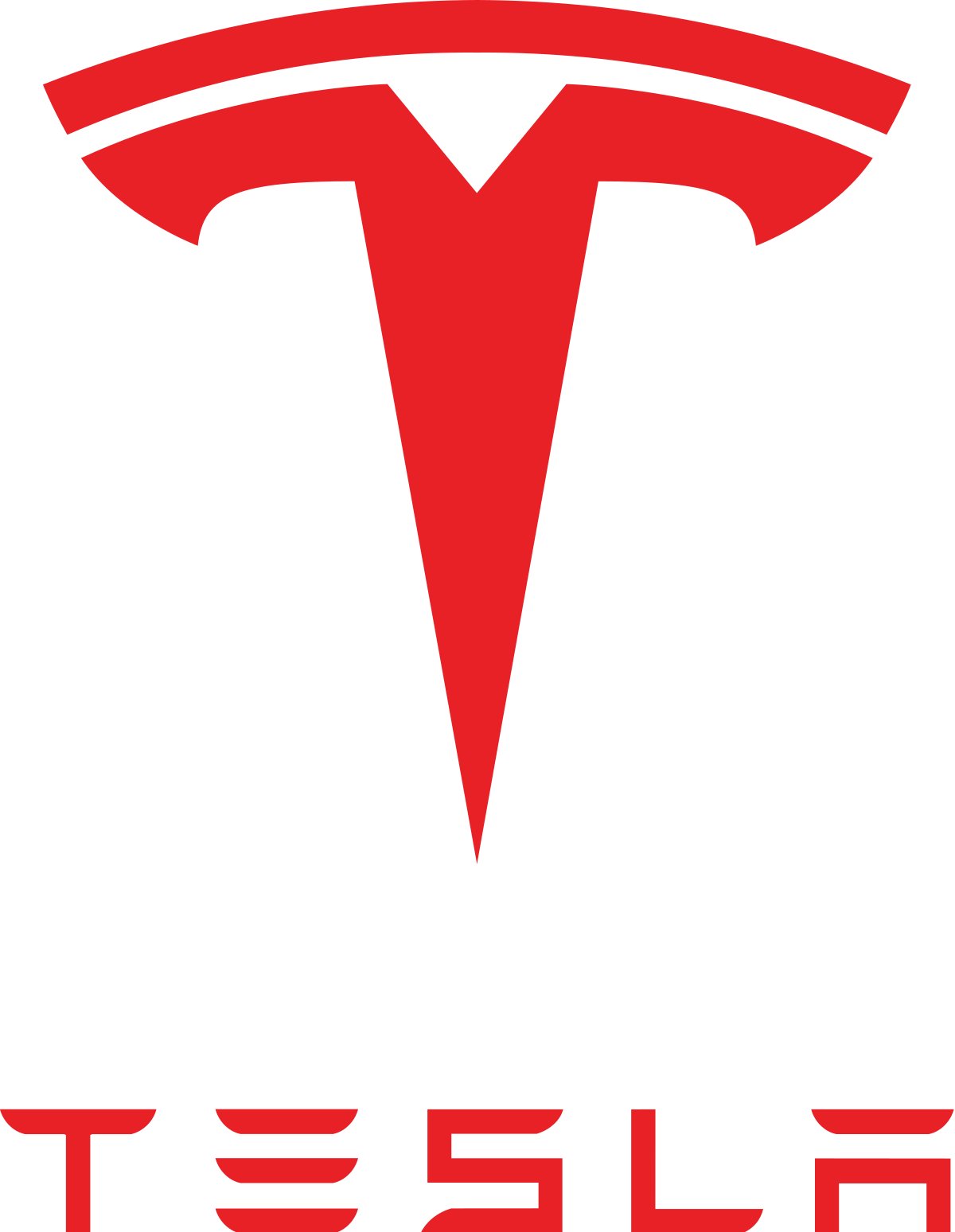 Zachary Kirkhorn (Chief Financial Officer)
Andrew Baglino (Senior Vice President, Powertrain and Energy Engineering)
Tom Zhu (Senior Vice President, Automotive)
Products/ Services
Model 3, Model S, Model X, Model Y, Semi, Powerwall, Powerpack, and Megapack solar panels and Solar Roof
Number of Employees
Above 50,000
Headquarters
13101 Tesla Road Austin Texas
Company Type
Public Limited Company
Company Registration
0001318605